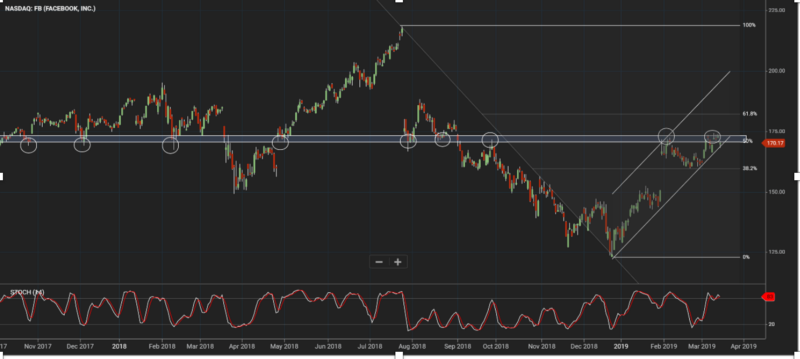 FB shares slid 1.3% as the social media giant deals with problems on two fronts: (i) FB announced yesterday that it had resolved outages that resulted in downtime for its Facebook, Instagram, and WhatsApp services over the past days — an interruption that raised questions from analysts regarding its ability to handle current traffic levels; (ii) simultaneously, an investigation from federal prosecutors has started to delve into its agreements with fellow technology companies to share personal information and data, with an eye to revealing whether those agreements violated the privacy rights of FB users. The $170–173 region has proven to be a key level for the stock, alternately acting as support and resistance for some time now. FB has rallied in an ascending channel from Dec 2018 lows to test $170 levels twice now, but has so far been unable to break through. The price level also coincides with the 50% fib retracement of the July to Dec 2018 correction, which adds an additional technical resistance. With the ascending channel intersecting strong overhead resistance, price action over the next few trading days could provide near-term direction for the stock.
Want to empower your trading experience? Sign up for exclusive early access to our Sigma trading platform here: https://webtrader.hydrax.io!
For more news and updates, follow us on Facebook, LinkedIn or Twitter.