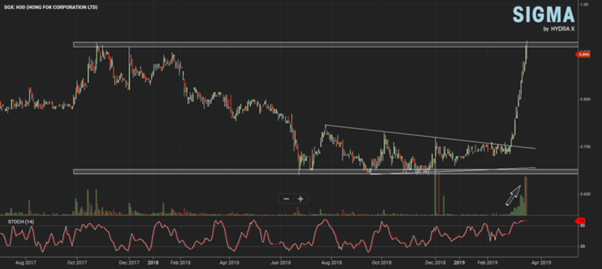 We've been keeping a close eye on Hong Fok Corporation (SGX:H30). The stock has been on a tear, rallying every successive trading day of March and on steadily increasing volume, up until it closed marginally lower today. Today's close also saw a doji forming as buyers proved unable to break through the ~$0.90 resistance which dates back to its highs of Oct 2017.
Given the parabolic nature of this rally, this move could be overextended for now and due for a corrective pullback. Overbought stochastics, overhead resistance, and the doji signalling market indecision are making us take half our long position off the table.
Solid company fundamentals, the magnitude of and volume behind this move, a series of company share repurchases and insider stock purchases together make us keep the remaining half our exposure in case of a catalytic event.
---
Sigma is now available for beta! Sign up for exclusive, early access today at: https://webtrader.hydrax.io
If you like what you just read, be sure to follow us on Facebook, LinkedIn or Twitter for weekly updates!