Rapidly Deploy Your Scalable Marketplace
Hydra X offers end-to-end marketplace solutions for exchanges, brokers, bullion and commodity companies to deploy electronic marketplaces, and digitalise their trading and operational workflows
Hydra X Marketplace Solutions Suite
Our solutions cover all aspects of the trading transaction chain, and enable our clients to address the demands of their full-fledged electronic marketplaces, or the specific requirements of their businesses.
Unlock maximum value across the transaction chain of trading
Our solutions enable clients to rapidly deploy their required technical and compliance infrastructure.
Cloud deployment of enterprise solutions translate into cheaper and faster customer and business acquisition, and allow clients to focus on establishing commercial moats.
Cost-effective modular pricing model reduces barriers to adoption and allows for cost-efficient set ups.
Digitalise, automate and simplify your trading workflows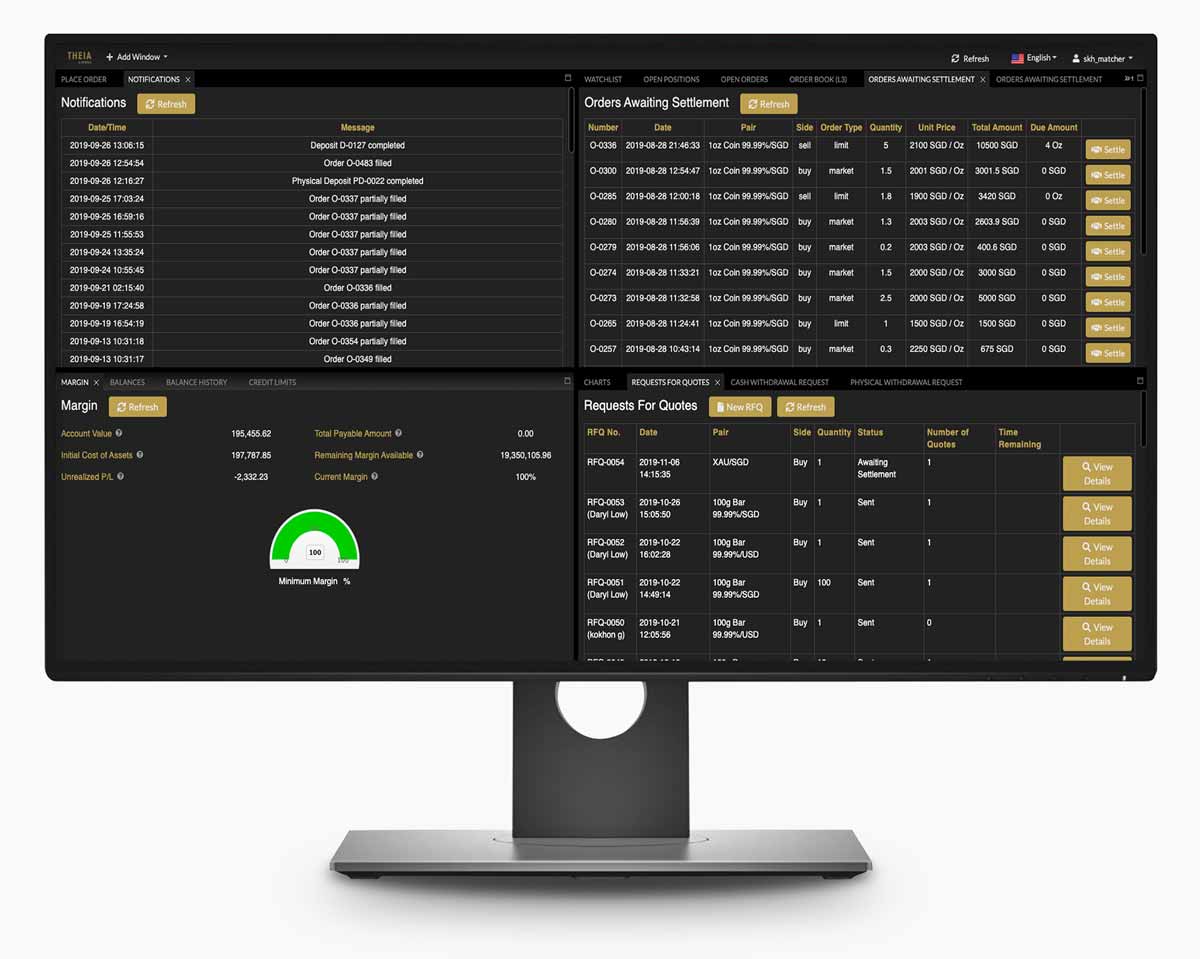 Cloud-based infrastructure that scales with volume of transactions.
We believe that speed and flexibility is key. Our cloud-based model covers customisation, deployment and ongoing maintenance. Fast implementation and fully managed solutions help businesses reduce the need for infrastructure and team buildout, reducing the cost of your tech deployment.

Fully customisable solution with multi-device support
Every trader trades differently, and our interface is designed to be fully customisable to meet the exact requirements of your business and your customers.

Fully-integrated pricing engine allows for dynamic updating of margining
We support the low-latency streaming of live prices from multiple bullion, futures and FX liquidity providers or any other customisable sources via multiple protocols (FIX, REST, WebSockets or other API formats), whether for reference or execution purposes.
Deploy only what you need
Front End
Trading Platform
Cost-effective and customer-centric front end solution.
Complete middle and back office functionalities for trade management operation
Low-latency matching system enabling high throughput allocation
Trading hub for discovery and execution of off-exchange multi-asset transactions
Comprehensive rates-generation solution for businesses
Deep regulatory experience, complete solution, reliable technology
Secure & regulatory-compliant solution
Partners can benefit from a multitude of solutions covering tech and operational/regulatory considerations such as customer onboarding, KYC/AML compliance, reporting and risk management.
Asset-agnostic architecture
Our asset-agnostic solutions cater to the needs of modern electronic marketplaces to support multiple asset classes, be it traditional or digital assets. 
Trustless and immutable trade settlements
Our clearing and settlement solutions employs distributed ledger technology to enable trustless and immutable trade settlements via bespoke, automatically generated smart contracts.
Seed CX aims to be the preeminent exchange for institutions that wish to trade in digital assets, and connecting to platforms like Sigma is part of that. In a short period of time, Hydra X has demonstrated real technological leadership, and we're very excited for Hydra X customers to connect to Seed CX.
NEXUS strongly believes that through this close collaboration with Hydra X's unique platform offerings, we are confident of achieving a winning combination that will escalate the current benchmarks of the liquidity industry.
Coinhako is delighted to have Hydra X as a trusted partner and technology provider to offer our users an alternative platform for trading, transferring and transacting of multiple digital tokens - such as Bitcoin, Ethereum, Litecoin and many more - as well as the monitoring of portfolio balances with Coinhako. The integration of our KYC and onboarding process will give customers unparalleled ease of use and security.
Learn more about us and stay updated with the latest trends on trading technologies
60 Innovative Solutions Shortlisted for 2018 Global FinTech Hackcelerator and FinTech Awards
Electronic Trading Technologies: How They'll Make A Difference in Your Business
Market Technology Trends 2020​
Built for change, while delivering the stability and fault-tolerance of the largest electronic exchanges
All components of the Hydra X marketplace solutions suite are fully integrable with each other, allowing complete end-to-end venue management. Functionalities include a trading front end, pricing database, pricing/rate engine, margining engine, risk engine, accounting, inventory and sales modules.
Frequently Asked Questions